SEARCH POLLINGREPORT.COM
---
---

Follow Polling Report:


For news & analysis:


PRIVACY NOTICE: Google, as a third party vendor, uses cookies to serve ads on this site. Google's use of the DART cookie enables it to serve ads based on users' visits to this and other sites on the Internet. Users may opt out of the use of the DART cookie by visiting the Google ad and content network privacy policy.

editor @-pollingreport.com
Note to subscribers:
Our subscriber website has a new address:
http://pollingreport.us/
Some passwords will need to be updated. If you are unable to log in, contact us at:
editor @ pollingreport.com
Please include the name of the subscriber.
State of the Union
President Obama 6/24
Congress 6/23
2016: White House 6/22
In the News
Same-sex marriage 6/24
Paul Ryan 6/23
Clinton vs. Trump, issue by issue 6/22
White House 2016: Trial heats 6/21
Gun laws 6/20
Terrorism 6/17
Global warming 6/17
Ban Muslims from entering the U.S.? 6/15
Donald Trump 6/15
Hillary Clinton 6/15
Democratic Party 6/15
Republican Party 6/15
A woman president? 6/15
Protection for transgender people
Int'l trade and the U.S. economy
Deport undocumented immigrants?
President Obama: Issue by issue
A wall on the border with Mexico?
Clinton vs. Trump, on the issues
Is the U.S. economic system fair?
Pope Francis and the Catholic Church
Terrorism 6/17
Environment 6/17
Gun laws 6/20
LGBT 6/24

_____

Public opinion + politics = OpinionToday.com
____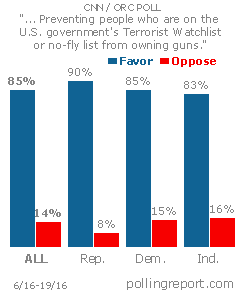 __


__

Public opinion + politics = OpinionToday.com. Follow developments throughout the day: news,
analysis, research findings. Search using a word,
phrase or tag. Get updates by RSS, email, Twitter.
_______

More Polling Report graphics:
Major trends • Elections/Politics • Issues